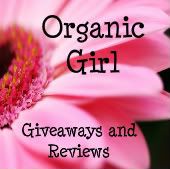 I would like to introduce you to the Organic Girl blog. Organic Girl is a mother of four children and she loves to blog all things baby/child organic including (but not limited to) the use of cloth diapers. A mom of many talents, Organic Girl owns two other blogs as well:
The Bakers Kitchen
and
Today's Diva
which also review and sponsor giveaways of some pretty awesome products. This Canadian blogger dedicates her blogs solely to presenting product reviews and giveaways. There are tons of organic product links for women/moms and babies. Products giveaways can be open to residents in the US and Canada so you should check out the various links to see which products apply. I, for one appreciate the price of free or extremely discounted and as we all know the use of organically produced materials and products is better for us and the environment. As time goes on, I will be posting more links to sites like these that are either run by moms or will significantly benefit women and their families.
Organic Girl
is definitely worth a first and second look.